Trip to Charna Island Scuba Diving
Trip to Charna Island Scuba Diving in Karachi, Sindh, Pakistan is near Mubarak Village Goth Kamari Town is also known as "Cheerno". Charna Island is 6km away from Mubarak Village. Moreover, Churna or Charna Island is one of the hidden gems in Arabian Sea of Karachi, Sindh, Pakistan. It is located 3.855 miles northwest of Mubarak Village fishing community which is the second-largest fishermen locality in Karachi.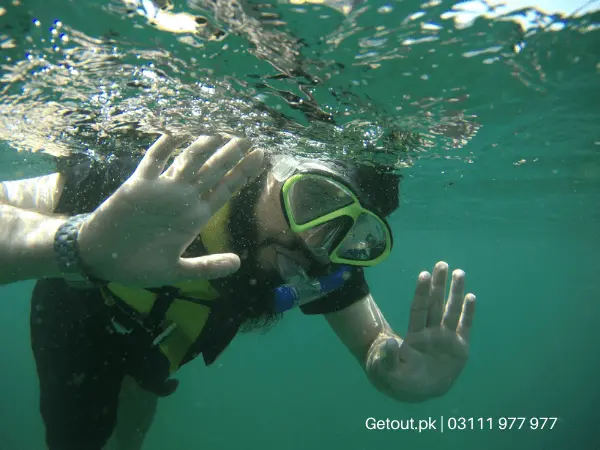 Charna Island Ticket Price 2023
Charna Island Ticket Price 2023 is Rs.5000 Snorkeling and Rs.10,000 for Scuba Diving. Contact Information for Charna Island Trip Reservations is (+92) 03111 977 977. With ticket prices for charna Island being so affordable every local or foreign person should at least once in their life have a trip to charna island.
Charna Island Tour Packages 2023
Charna Island is a true heaven for it's underwater activities such as Scuba Diving and Snorkeling because of it's underwater beauty. The island is filled with colorful sea life and is surrounded by coral reefs with crystal clear water and captivating landscapes making it an underwater beauty. Due to it's natural beauty it is rapidly becoming a must-visit destination for both local and foreign tourist.
Best season to visit Charna Island is from September to March ideally the winter season because of low winds and high visibility. It is because during summer season the water is to hot for any underwater activity during day time.
Snorkeling:
Snorkeling at Charna Island is a memorable experience that one individual has to feel one time in their life. But before diving into sea it is important to gear up and you make sure of safety first. As your tour maker, it is our duty to make sure of your safety with our experienced & certified trainers that accompany you on this journey. We also make sure to gear you up before having a memorable deep dive in crystal clear waters of Charna Island. Charna Island Ticket Price 2023 for snorkeling is Rs.5000.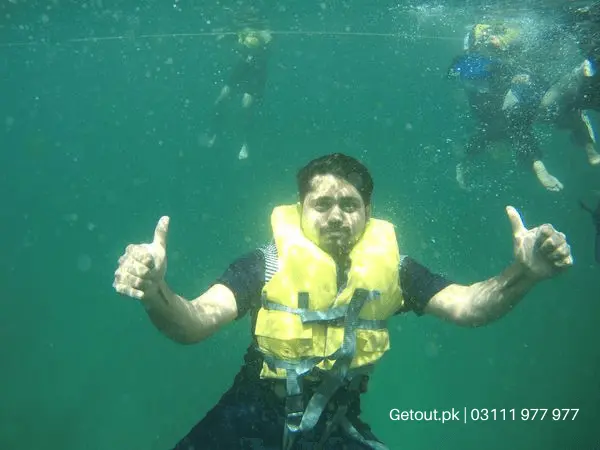 Scuba Diving:
Charna Island Scuba Diving is an underwater diving activity in which diver use breathing equipment dependent of surface air supply, a professional Scuba Diver is in charge make sure the safety of the tourist. Scuba diving includes snorkeling, underwater photography, jumping from the cliff into water and reaching water level with the help of breathing equipment. Trip to Charna Island Scuba Diving Price in 2023 is Rs.9000.
Is scuba diving dangerous
Some people are afraid of underwater activities and unable to experience that type of enjoyment such as Scuba Diving Charna Island. If you are one of those people who are afraid of underwater fun/activities so don't worry. You don't need to be afraid anymore. Here is the video which can help you to get rid of your fear. A guy first time experience at Charna Island Scuba Diving is enjoying underwater. With our tour guide who is accompanying him to make sure of his safety. This makes Charna Island Scuba Diving a once in a life time experience that you should enjoy as well.
Conclusion:
Trip to Charna Island 2023 promises a memorable once in a lifetime experience filled with natural beauty, underwater wonders and exploration and beautiful landscape with crystal clear water. With charna island ticket price 2023 being affordable for tourist. There is no reason to miss out on this incredible trip to charna island 2023.
Hurry up! Book your tour to Charna Island now, Call 03111 977 977 to experience natural beauty of hidden gem of Arabian Sea.