Can't find what you're looking for?
Make Your Own Adventure!.
Make my Trip
Starting from
Rs.5000
per person
Description
Charna Island Trip

Charna Island Ticket Price 2023. Trip to Charna Island Scuba Diving in Karachi, Sindh, Pakistan is near Mubarak Village Goth Kamari Town is also known as "Cheerno". Charna Island is 6km away from Mubarak Village. Moreover, Churna or Charna Island is one of the hidden gems in Arabian Sea of Karachi, Sindh, Pakistan. It is located 3.855 miles northwest of Mubarak Village fishing community which is the second-largest fishermen locality in Karachi.

Charna is approximately 1.2 km (0.75 mi) long and 0.5 km (0.31 mi) wide. Trip to Charna Island is also locally known as "Cheerno." Fishers of Mubarak Goth go fishing near Charna Island Karachi. Similarly, there are many species of fish, crabs, and lobsters. So, anglers take boats/ferry to go to Charna Island from Mubarak Goth. Mubarak Goth is the second-largest fishermen locality in Karachi. Finally, Charna Island Karachi Packages 2020 2021 2022 2023. Charna Island Booking Contact Number is 03111 977 977. Charna Island is Open Now. Hurry Up! Book your slot now for a deep-water adventure.


Charna Island Ticket Price 2023

Charna Island Ticket Price 2023 is Rs.5000 Snorkeling and Rs.10,000 for Scuba Diving. Contact Information for Charna Island Trip Reservations is (+92) 03111 977 977. Every local or foreign person should visit Charna Island at least once in their lifetime because of its affordable ticket price.


Charna Island Tour Packages 2023

Due to its underwater beauty, Charna Island is a true paradise for activities like scuba diving and snorkelling. The island is surrounded by coral reefs, has a wealth of sea life, pure water, and beautiful scenery, making it an underwater paradise. It is quickly turning into a must-visit site for both domestic and foreign tourists because of its natural beauty.

The best time to visit Charna Island is between September and March, particularly during the winter because of the mild weather and excellent visibility. It is because the water is too hot during the summer for any daytime underwater activity.


Charna Island Trip Details:

Everyone join on the exciting Trip to Churna Island from the Agha Khan Hospital pick-up and drop-off location. We will drive from Karachi to Mubarak Village in a Coaster/Hi-ace/Daewoo vehicle which takes around 3 to 4 hours. For your comfort, we will give you a snorkelling kit that includes a diving mask, a snorkel (a device or tube for breathing on the surface of the water), a life jacket (for non-swimmers), and wet suits for cold weather.
Churna Island is accessible by boat in one hour and 45 minutes including the return trip from island. The boat ride distance is approximately 10 km.
Male and female instructors, as well as more seasoned lifeguards, accompany non-swimmers on this tour to assure their safety. Each island has a lifeguard at the end of a rope that is tied from the boat to the island over the water. In a similar way, our Charna Island Packages 2023 include underwater photography instruction and multiple shot sessions (we keep trying until we capture a perfect & memorable photo of you). In addition, our trained and experienced safety instructors and crew, multi-shot photography, and cliff diving
Additionally, we offer Chicken biryani for lunch and drinks along with cold beverages and juices. (Can be different depending on the weather).


Charna Island Tour Description:

Charna Island is mostly a rock island with no sand beaches and many spots for Scuba Diving and Snorkeling.
From Manjhar Beach to Charna Island, it is 9 KM away from Mubarak Village, which is 6 KM away. Distance from mid city to Manjhar Beach is 50 KM away.
Charna Island is 1.2 km long and 0.5 km wide. The winter season runs from September to April.
The best season to visit Charna Island is September to March ideally the winter season
potential activities are Water sports and sightseeing Tours Average Last but not least, camping and overnight stays are not permitted on this tour.
Charna island is only island with crystal clear sea and coral reefs and rich sea life close to Karachi because mountains prevent wind and currents causes calm water.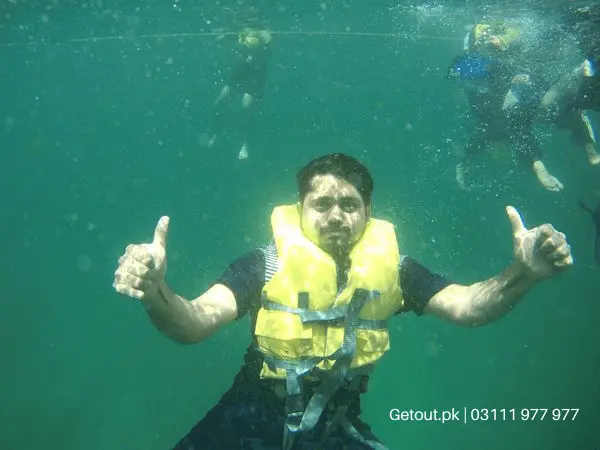 Recommended Gear:
Water bottle
Sun Block and Sun glasses
Trekking boots/Joggers/Comfortable Shoes/Slippers
Back Pack
T shirts for day trekking
Duration: 1 Day
Trip Itinerary
Day 1
07:30 am Gathering
08:00 am Departure
10:30 am Hit the Beach
Transfer to Boat for Charna Island
12:00 pm Charna Island
03:00 pm Departure from Charna Island
04:00 pm Lunch
05:00 pm Departure from Beach
06:30 pm Arrival at Karachi
Facilities
Services
Transport - Boating - Lunch - Guide - Basic First Aid Kit - Photography - Life Jackets
Cancellation Policy
50% of the total amount will be deducted if cancellation notified 7 days prior to the trip
75% of the total amount will be deducted if cancellation notified 4 days prior to the trip
100% of the total amount will be deducted if cancellation notified within the last 3 days prior to the trip unless the trip is canceled by the management
Trip Itinerary
Day 1
07:30 am Gathering
08:00 am Departure
10:30 am Hit the Beach
Transfer to Boat for Charna Island
12:00 pm Charna Island
03:00 pm Departure from Charna Island
04:00 pm Lunch
05:00 pm Departure from Beach
06:30 pm Arrival at Karachi