Shangrila Hotel Chilas offers up to a 100 spacious rooms which are uniquely designed to include luxurious amenities. Most of these rooms over look the indus river and provide a comfortable night for all our guests.
Our management offers hospitality at its best with a peaceful atmosphere in a beautiful natural environment cut away from the distractions of polluted city life. Excursions to beautiful surrounding lakes and rivers can be arranged during your stay. Chilas is known for its famous Buddhist carvings some dating back to 2000 BC.​
Shangrila was established in 1983 with the opening of the first Resort Hotel in Skardu, Baltistan.It was named"HEAVEN ON EARTH" because of its spectacular beauty,and breathtaking view and peaceful atmosphere. Shangrila Resort Hotel was founded by the late Brig.(Retd) Muhammad Aslam Khan, the first commander of the Northern Scouts who liberated the Northern areas in 1948.​
​Shangrila was named after a book titled "LOST HORIZON" by James Hilton. In the book, the author narrates a fictious tale in which an aeroplane crash landed near a riverbed, in the early 1920's. The surviving passengers came across some Buddhist monks from a nearby temple and sought their help. They were taken to a beautiful lamasery filled with a variety of fruits and flowers. The monks looked quite young, although they claimed to be hundreds of years old. The idyllic place was called Shangrila,a Chinese word meaning​
" HEAVEN ON EARTH"
​We would like to introduce Shangrila Heaven on Earth, which is situated in the Northern Areas of Pakistan. This region has some of the finest Tourism attractions in the world, such as K-2( 8611.M ) 2nd highest peak on earth. Deosai Plains the longest, widest and highest plateau in the world, the fast flowing River Indus which starts from Ladakh and snakes its way through the Karakoram and Himalayan ranges, along picturesque valleys, glaciers, natural wild life, forests and historical monuments ,dating back thousands of years and across the country into the Arabian sea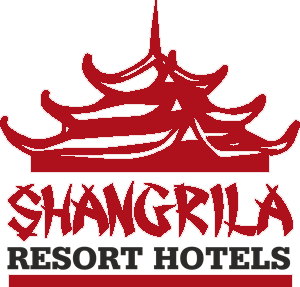 ​You can also travel by road on the famous Karakoram Highway, also known as the Eighth Wonder of the world. A new motorway has been built which is the highest paved road in the world and passes through some beautiful cities which are Abbotabad, Mansehra, Balakot, Kaghan and Naran finally reaching the Babusar pass where you drive through lush green meadows surrounded by streams. The road only opens for traffic from May till October, as due to heavy snowfall the roads are closed for a few months in the winters.
Coming down from the Babusar pass you reach the famous Karakoram Highway, to go to Chilas you turn left on the KKH and after one kilometre you will reach Shangrila Hotel Chilas. Shangrila Resort Chilas is also the staging point for trips to Fair Meadows where small treks can be arranged for you.
Approach by Air
Shangrila Resort Chilas is accessible by air, There are two ATR flights daily from Islamabad to Gilgit from where Shangrila chilas is a two hour drive.
This is one of the worlds most scenic flights which takes you over the Kaghan Valley along the Himalayan Range. On your left hand side of the aircraft you can see the famous Hindu Kush and Karakoram Ranges while on your right you can see Nanga Parbat (26660 feet) also known as the killer mountain and the Tirich Mir and Rakaposhi peaks.
Approach by Road
FROM April to November​
If you wish to travel by car or coaster you will start your journey on the M-2 motor traveling through Peshawar and taking the Hassan Abdal exit, from there you will have to follow the road to Abbotabad city. This is a very scenic drive passing through Mansehra, Balakot and Kaghan, driving along the Kaghan River to the town of Naran.
This is a newly built road driving through lush green meadows with the beautiful Lulusar lake on your left. Next you will teach the Babusar pass which is at a height of 14000 feet driving down to enter the Gilgit/Baltistan region, here you will meet the famous KKH from where you turn left and Shangrila Hotel Chilas is at a distance of 1 km.
---
Shangrila Hotel Chilas Website: www.shangrilahotels.pk